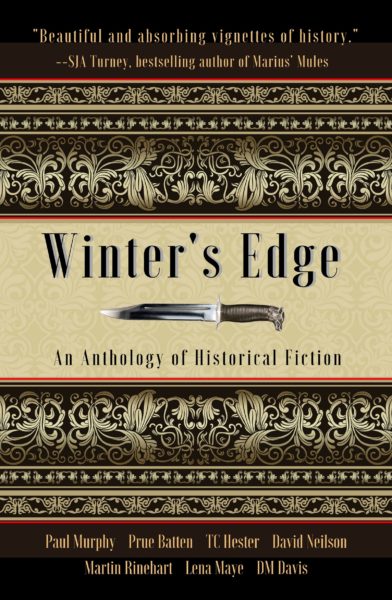 Title:
Winter's Edge
Release Date:
November 17, 2017
Buy or Review the Book:
Kindle
|
Nook
|
Apple
|
Kobo
Seven heart-warming PG-rated stories celebrating family, friendships, and holidays.

"Wolf of Saturnalia" by Paul Murphy begins the action-packed journey in the heyday of the Roman Empire as two old friends, experienced war veterans, forge three daggers to give to family members at the feast of Saturnalia.
"Vielle" by Prue Batten, award-winning author, who reminds us, nearly twelve centuries later, a troubadour, master of an instrument we might recognize today as a cross between a lute and a violin, that undercurrents of intrigue and violence can be present at even the most enjoyable celebrations.
"DaVinci and DiPaolo" by Teddy Hester takes us to Renaissance Sicily in the early 1500s, where Barbary pirates threaten the young di Paolos, who are expecting their first child. On their way to a new home, they befriend an elderly gentleman of renown who uses an ancient knife to the finest of purposes.
"Sweet Nightingale" by David Neilson weaves a dense tapestry with Sweet Nightingale, where the intrepid Sophie Rathenau encounters a wolf's-head dagger while solving a lush Viennese mystery.
"Bingley and Darcy" by Martin Rinehart invites us to imagine the course of events between Mr. Bingley and Jane Bennett in an expanded Pride and Prejudice—with an eye to Jane Austen's Georgian era and the narrative style of her day. Again, a wolf's-head dagger helps make possibilities happy reality.
"Once Was Lost" by Lena Maye has one dagger ending up in Dust Bowl Kansas in the 1930s, in a poignant story of friendship, love, and survival.
"Warm Me Softly" by D.M. Davis sees the daggers play a pivotal role in helping a couple find and embrace life and a love in a modern-day New York City antique store, in a story as timeless as the ages.